Food Waste
The Ten Hottest Start-Ups - 2019 Food Waste Innovation Challenge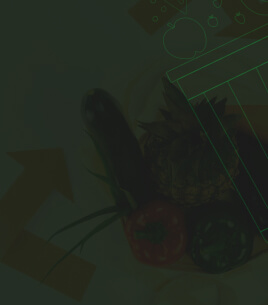 Food Waste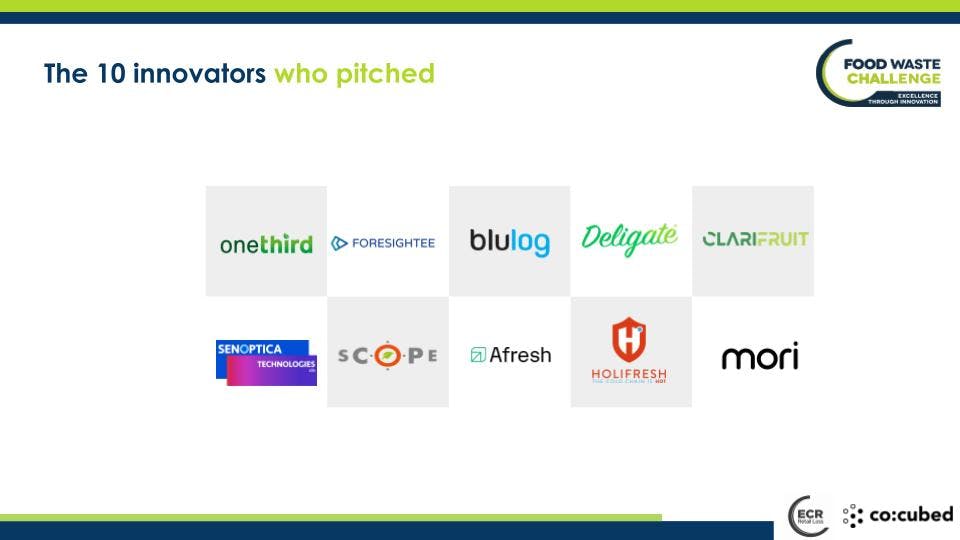 Introducing the Top Ten Hottest Food Waste Start Ups
Start-ups  are pioneering solutions to many of our world's greatest challenges, and Food Waste is no exception. A third of all food produced globally is never eaten. To put that in perspective, it is equivalent to over 1.3 billions tonnes of food wasted every year. Food waste is an increasingly concerning  challenge, and food retailers are at the forefront of the issue. 
The ECR Innovation Challenge connected start-ups and innovators with global retailers to pilot and scale new approaches to tackling food waste.  It serves as a platform for the acceleration of food waste reduction initiatives.
For the first time, the finale of this Innovation Challenge was delivered virtually.  Whittled down from a long list of over 150 food waste start-ups and innovators, ten finalists short listed by twenty ECR retailers, pitched their solutions to global retailers in November for a chance to pilot their technology with retailers.
In this blog, we have profiled these top ten start-ups, sharing their innovative products and ambitious business plans to tackle food waste. Take a moment to get to know these companies that make up the ECR Food Waste Innovation Challenge 2020. If you would like to see their pitches, then click here to get access to a recording of the showcase.
The Top Ten Finalists:
The Power of Prediction; the next step in a quality-driven food supply chain for fresh produce!
Founded: 2018
Location: The Netherlands            
Total funding: €1m
Co-founder: Marco Snikkers
Website: www.onethird.io
Contact: marco@onethird.io
The vision of OneThird is to become the objective standard for assessing quality of fresh produce from farm to fork. They focus on holistic parameters like shelf life and taste to predict attributes of food consumers care about.
Real-time shelf life information of fresh produce is essentially unknown throughout the food supply chain. The current test methods are wait-and-see; always in hindsight. As a result, conservative estimates are used throughout the supply chain. This leads to fresh produce being wasted unnecessarily.
OneThird uses non-destructive optical sensors to analyse the biological processes inside the produce. Combined with artificial intelligence algorithms, they predict shelf life in real-time. Direct actions can be taken to get the right product, to the right location at the right time. The technology can be used at growers, distributors or in retail stores. Sharing objective real-time information throughout the supply chain will further increase actionability and strongly reduce food waste. One third of food is wasted… Let's change that together.
Less food waste and out-of-stocks? Solving two problems at once with fresh forecasting.[1] 
Founded: 2018
Location: Hasselt, Belgium            
Total funding: €50k
Co-founder: Judith Ketelslegers
Website: www.foresightee.com
Contact: judith.ketelslegers@foresightee.com
Forty percent of food waste in retail is caused by bad forecasting. How much money does this represent to a retailer? Imagine that number was halved. And on top of that, out-of-stocks were decreased. In a nutshell, that is what a good fresh forecast can do through Foresightee.
Foresightee is a Belgian-based startup in the #retailtech industry. They forecast sales of fresh products with machine learning. Their robust forecast engine can easily be plugged into a company's systems, allows them to own and stay in control of their dashboards and empowers them to optimise all related processes. Foresightee takes care of the heavy-lifting, owns the IP and their new technology is now ready to pilot with retailers. Their expertise, experience, goals and personalities makes them a dream team that can take on a challenge.
Cold chain monitoring using state-of-the-art R&D and trusted by over 400 customers worldwide.
Founded: 2015
Location: Poznan, Poland             
Total funding: €1m           
Co-founder: Jérémy Laurens
Website: www.blulog.eu
Contact: jeremy.laurens@blulog.eu
Blulog is a fast growing Polish-French company built after 15 years of R&D on a revolutionary M2M technology. They developed an all-in-one monitoring solution that includes IoT devices and software products working seamlessly together to reduce risk, time and money in any sectors where environmental parameters monitoring is important. Their solutions are used worldwide by more than 400 customers, including DHL, Metro, Eurocash Group, Doctors Without Borders, Chronopost or DPD.
The Blulog technology helps "simplify" data communication from the physical level up to the cloud, enabling companies to build complex yet inexpensive solutions for sensors, energy management, and relevant parameter-based systems that can help optimise processes and minimise losses.
Whether retailers opt for small NFC loggers for monitoring of temperature-sensitive products during transport or a real-time solution, Blulog ensures they can get full visibility and tracking of their assets all along the supply chain.
Turning food waste into profit.
Founded: 2016
Location: Lan, Sweden
Total funding: undisclosed
Founder: Adam Vikström
Website: www.deligate.app
Contact: adam@deligate.se
Deligate offers innovative tools that help retailers track and sell out short-date products in ways they have never seen before. Their smart expiry-date-tracker uses best-practice to provide a safe and time-efficient way to do date checking, making sure retailers can find all products that are about to expire in time.
Their B2C platform Chow helps retailers take these products, generate a number of dinner recipes and get them sold out in a ready-to-cook dinner bag, rather than price reducing them. It is not a law by nature that food loses half its value one day before expiration. But by adding value instead of price reducing, Delegate's average Chow user doubles their margins on short-date-products following this change of routine (from an average price reduction of 35% => 4% per sold product).
Deligate systems are today used in over 500 stores within top brands of the Nordics including ICA, Coop, Kesko, Axfood and REMA.
Automated quality control & data analytics platform for the Fresh Produce industry
Founded: 2017
Location: LeZion, Israel                  
Total funding: $6m           
Founder: Avi Schwartzer
Website: www.clarifruit.com
Contact: elad@clarifruit.com
Leveraging Big Data and AI, Clarifruit's cloud-based solution has two main components: front-end Mobile App for the inspector, and a Management & Analytics dashboard for the end-to-end quality control (QC) manager. Together, they enable retailers to optimise quality control across their entire supply chain. This increases inspector productivity by x3 and empowers them to standardise quality specs across their upstream supply chain while making data-informed decisions on vendor performance and prioritisation.
Clarifruit has been working with over 18 customers over the last two years, including tier-1 marketing companies and growers across Europe, Latin America, and the US. Some of those customers include the world's top-2 Fresh Produce brand and the world's largest exporter of stone fruit from Chile. Over the last six months, they have expanded into the retailer segment, and are now working with three retailers across EMEA, two of them are top-2 regional leaders.
Ground-breaking packaging sensor reducing food waste on foods packed and plastic waste across the supply chain.
Founded: 2018
Location: Dublin, Ireland               
Total funding: €1.4m
Co-founder: Brendan Rice
Website: www.senoptica.com
Contact: brendan.Rice@senoptica.com
Globally every year, over 5 Billion Modified Atmosphere Packaging (MAP) packs have failed by the time they reach the supermarket shelf causing the food to spoil rapidly and making the product a food safety hazard. It is estimated this problem costs global retailers over €7 Billion in lost revenues annually.
Senoptica has developed an oxygen sensor for MAP that can ensure every pack has been packed properly before it leaves the packing line. The sensor can also be imaged at any point in the supply chain. In addition, the system generates valuable supply chain data that fills a vital gap in the newly emerging food traceability systems like IBM Food Trust TM. This results in increased retail revenues, less plastic packaging waste and fewer customer complaints.
Senoptica is a spin-out company from Trinity College Dublin, Ireland and has raised €1.4m funding to date. Senoptica will be piloting the technology in 2021 and is seeking to collaborate with interested retailers on a number of well-defined pilot projects.
A cloud platform empowering food companies to innovate while ensuring food safety & quality.
Founded: 2018
Location: Ontario, Canada          
Total funding: undisclosed
Founder: Horia Bradau   
Website: www.nutriscope.ca
Contact: horia.Bradau@nutriscope.ca
nutriSCOPE is a startup born in the vacuum that exists between the demands of Industry 4.0, and the status-quo of the Food Industry, that still relies heavily on antiquated technologies and practices. They believe that food waste and other conundrums that riddle the industry are not the problems, but rather the symptoms of the same root cause: a disconnected, erratic, opaque and rigid Supply Chain.
Their solution is a Digital Transformation SaaS/cloud platform that takes a holistic approach to Food Integrity, Innovation and Intelligence. It is a multi-tier Product Lifecycle Management (PLM) platform across Supply Chain, that empowers the participants to connect and collaborate in line with GS1 standards. They enable retailers to capture a rich and accurate product Digital Twin and Digital Thread, resulting in greater transparency, traceability and trust across the value chain, from producers to manufacturers, brand owners to retailers, and ultimately to the consumer.
nutriSCOPE was used successfully in a year-long production pilot by a major Canadian Retailer. The goal was to re-label thousands of retailer's own brand products, collecting and aggregating data from hundreds of suppliers.
nutriSCOPE is ready to prove its worthiness and unique abilities, either in pilot or production environments.
AI-powered platform helping grocers transform their Fresh departments
Founded: 2017
Location: California, United States             
Total funding: $19.8M      
Co-founder: Matt Schwartz
Website: www.afresh.com
Contact: matt@afreshtechnologies.com
Afresh Technologies develops A.I.-powered solutions that optimise merchandising, ordering, and operations for all fresh departments. Afresh offers grocery retailers the first store-level orderings system built specifically for Fresh's complexities. They help grocers significantly reduce food waste and improve profitability, and make fresher, healthier food more accessible to all.
One third of all food is thrown away each year, and Afresh is addressing this enormous problem, which leads to expensive losses for grocers and significant impacts to the environment. Afresh is a Series A startup based in San Francisco that was founded in 2017 by Stanford University alums Matt Schwartz, Nathan Fenner, and Volodymyr Kuleshov.
An intuitive temperature recording platform with new IOT sensors to limit food waste.
Founded: 2017
Location: Brabant Wallon, Belgium                           
Total funding: €471K        
Presenters: Remy Gierech and Caroline du Pret
Website: www.holifresh.eu
Contact: remy@holifresh.eu / caroline@holifresh.eu
The Holifresh idea was born from a passion to solve a recurring problem faced by food professionals: "Existing solutions to secure the cold chain and avoid food waste in our fridges and freezers are expensive and not user-friendly. Most of them require internet or cable connection. Our company still uses old manual recording on paper which is not safe for goods". 
Holifresh offers an intuitive technological and automatic temperature recording system combined with real time alarms. The goal of Holifresh is to offer a system using actual technology, the IoT, avoiding loss of time and increasing fridge safety in a simple Plug&Play solution.
Since 2017, Holifresh has been working with more than 500 clients across Europe. The company is already working with many retailers as Metro, Cora, Delhaize, and Carrefour to name a few. To date, the firm is able to run a global deployment and has recently equipped 100 stores within only 4 months.
The Power of Prediction; the next step in a quality-driven food supply chain for fresh produce!
Founded: 2016
Location: Boston, USA     
Total funding: $17.35 m
Co-founder: Adam Behrens
Website: www.mori.com
Contact: adam@mori.com
Nearly 50% of food is wasted before even making it to consumers' homes. Mori Silk naturally keeps food fresh by slowing down the processes that make food spoil: oxidation, dehydration and microbial  growth.
This enables our customers to:
• reduce waste and limit shrink
• introduce flexibility into the supply chain
• enable innovative, sustainable packaging
• establish a broader distribution network
• launch SKUs previously not viable
Our product - Mori Silk - is an aqueous-based solution containing silk fibroin protein. Once deposited on a food's surface, Mori Silk self-assembles into transparent, tasteless, highly crystalline, and tunable films with strong barrier properties. Our product is compatible with a wide variety of surfaces, allowing Mori Silk to be effective across a broad range of foods and substrates – from whole produce to fish and everything in between. Mori Silk is protected by 18 patents in 19 countries.
Nov 20, 2020