E-commerce Loss
Top Eight E-Commerce Loss Innovators!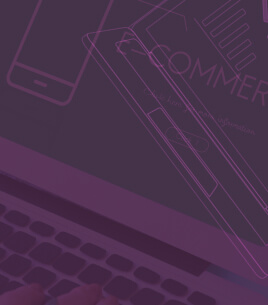 E-commerce Loss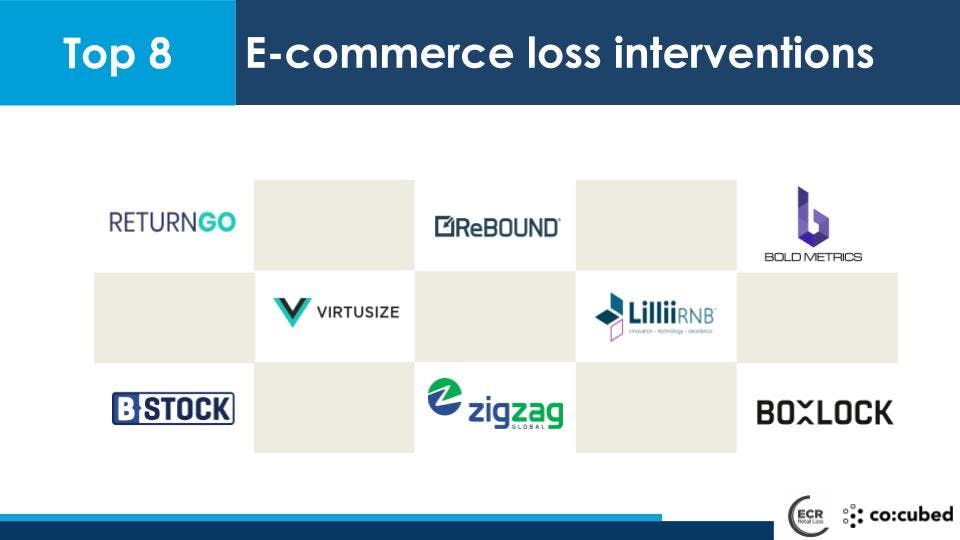 Introducing the Top Eight Magnificent E-Commerce Loss Start Ups
Startups are pioneering solutions to many of our world's greatest challenges, and e-commerce operations improvements is no exception, where the high rate and cost of returns, inventory losses and fraud all hurt the bottom line. And as the channel grows, so does the challenge.
The ECR Innovation Challenge connected start-ups and innovators with global retailers to pilot and scale new approaches  looking to reduce the cost of returns and losses to fraud. It serves as a platform for the acceleration of e-commerce loss reduction initiatives.
Back in October last year, members of ECR defined the key areas of focus related to E-commerce loss. The five areas span the e-commerce value chain, from seeking to reduce the need for returns in the first place, through optimising product selection, through to optimising the value of returns which cannot simply be re-inserted into standard channels.
Whittled down from a long list of over 100 e-commerce loss start-ups and innovators, eight finalists short listed by five ECR retailers pitched their solutions to fifty global retailers in April for a chance to pilot their technology with retailers.
In this blog, we have profiled these top eight start-ups, sharing their innovative products and ambitious business plans to tackle e-commerce loss. Take a moment to get to know these companies that make up the ECR E-Commerce Loss Innovation Challenge 2021. If you would like to see their pitches, then click the name of the start-up to get access to a recording of the showcase.
How can data help shoppers find the perfect fit when shopping for clothes on-line? Bold Metrics' technology helps retailers to minimise apparel returns.
Founded: 2015
Location: San Francisco, USA
Total funding: $4.4m
Co-founder: Daina Burnes, Morgan Linton
Website: www.boldmetrics.com 
Contact: contact@boldmetrics.com

Finding the right clothing size, especially online, is a confusing and frustrating process for most customers, leading to costly and unnecessary returns, a bad customer experience, and lost sales. 
San Francisco-based Bold Metrics develops AI to unlock the power of body data to reduce returns, boost conversions, and personalize the customer experience. Our elevated approach to fit and sizing means that customers just answer a few simple questions for our technology to predict 50+ body measurements in 0.5 of a second accurately. This body data is mapped to garment information to provide accurate size recommendations with contextualized fit preferences. Purchase and returns data is also layered in, further improving recommendations and drastically reducing apparel returns for clients in a scalable way. Bold Metrics works with companies that span from custom clothiers to mid-tier brands, to enterprise-level clients across three continents.
Bold Metrics technology is proven to reduce average apparel return rates by 32%, creating a convenient, contactless, and more sustainable way for customers to find their size, both in-store and online. Their easily-integrated SasS solutions work with existing websites or in-store platforms, making it simple and fast for brands to get started with our innovative, AI-powered solutions. 
Whether it's the initial delivery, or the subsequent pick-up, what happens at the doorstep of an unattended home is central to much of the loss and frustration in e-commerce. BoxLock is helping to solve the doorstep delivery challenge.
Founded: 2017
The Supply Chain Access Control Platform. BoxLock's subscription-based inventory, access and security solutions are helping leading healthcare, operations and logistics companies to realize tomorrow's savings today making their supply chain more efficient, accountable and reliable wherever assets are stored and transferred. 
BoxLock's SaaS solutions integrate with existing supply chain, operations and materials management systems to provide real-time inventory access, visibility and security
Unfortunately, customer returns and overstocks are a real challenge for retailers. A company bringing innovation and scale to this global issue of re-sell is B-stock, with a marketplace for excess merchandise and the link to loss prevention. 
Founded: 2008
Locations: HQ Belmont, San Francisco, Boston, Orlando, Salt Lake City, London, UK.           
Funded: $73.2M
Founder: Howard Rosenberg
Website: www.bstock.com
Contact: giorgio@bstock.com 
B-Stock believes there is tremendous value in and demand for consumer returns and excess inventories - no matter the category, condition, or location.
By connecting this inventory directly to the right business buyers through a transparent sales platform they enable controlled transactions, fair market prices, reduced carbon footprint, and a faster sales cycle.
B-Stock is the world's largest business to business online auction platform connecting the world's largest retailers and manufacturers to 100s of thousands of pre-approved business buyers around the world.
Through enhanced technology and data insights they provide holistic transparency for their partners, B-Stock's portfolio of services reduces customer returns loss and mitigates against significant operational overheads enhancing our clients loss prevention strategies.
With over 500,000 registered business buyers, B-Stock is able to provide insights into category purchasing behaviours for the secondary market that helps sellers and buyers understand current trends and the implications to their business
B-Stock serves many of the world's largest retailers and manufacturers, operating across 135 countries, delivering over 220,000 B2B online auctions per annum, selling over 130 million items for our clients in 2020. 
Enterprise SaaS Store Returns Management platform that helps retailers fight Store Returns fraud through an innovative System Integration as a Service platform featuring integrations for Investigative Intelligence, Payments Fraud and Internal Theft. 
Lillii RNB Inc is an Enterprise Solutions company that specialises in Enterprise SaaS Solutions, System Integration and Retail Technology Consulting Services. They help retailers detect and prevent fraudulent returns. 
Through our software platform, Freeing Returns™, they are providing System Integration as a Service, starting with Store Returns Management. They have moved our 1-off System Integration products to a marketplace format and an Enterprise SaaS recurring revenue model. Their Freeing Returns™ platform allows us to save Retailers TIME and MONEY when integrating Store Returns Management Applications. 
Their featured Investigative Intelligence integration gives retailers the ability to analyse data, investigate hidden relationships and add monitoring and alerts for faster detection. Using the well-known big data Elasticsearch provides the long awaited Investigative Grade fusion of knowledge graph, link analysis, bi data search and analytics as well as real time, full scale, stream monitoring and alerting.
Their company website is www.lilliirnb.com and our Enterprise SaaS platform, Freeing ReturnsTM website is www.freeingreturns.com
The home is now the fitting room meaning around 30% of online clothing is returned. ReBOUND helps you control your global ecommerce returns by taking the returns journey online, so you have full visibility of what items are coming back and why.
ReBOUND's mission is to help retailers achieve smarter, more sustainable returns whilst enhancing the customer experience.  They achieve this through a combination of Intelligent returns technology plus the physical reverse logistics to help retailers streamline the global returns process. One can think of ReBOUND as their returns' solution in a box.
ReBOUND enables retailers to make smarter business decisions around their unwanted items with a range of value-added services such as contents inspection, repacking and routing. This enables retailers to offer a complex but flexible returns network behind the scenes with a simple slick return experience for their shoppers up-front.
The business specialises in cross-border returns with retail clients based worldwide and boasts over 270 carrier services, including mobile return options to help retailers go paperless. They are already powering millions of returns transactions a year for over 500 brands including the likes of ASOS, Missguided and Gymshark, so you'll be in good company by choosing to work with ReBOUND.
ReturnGO's AI driven return management significantly improves customer lifetime value and post-purchase experience.
Founded: 2020
Location: Tel Aviv, Israel        
Total funding: $1m-$5m
Co-founders: Eyal Rosental, Aviad Raz
Website: www.returngo.ai 
Contact: eyal@returngo.ai 
ReturnGO is an Israeli technology company tackling the ecommerce industry challenges on returns, and is building an AI driven return management platform that puts Merchant profitability at the forefront.  ReturnGO improves Merchants' bottom line by positively impacting customer retention, average order value, and reverse logistics costs.
Online product returns are a significant industry challenge, with refunds in particular negatively impacting merchants profitability. The ReturnGO return management platform, through proprietary AI algorithms and the ReturnGO Return Recommendation Engine, encourages customers to exchange a product or get store credit instead of asking for refunds. The result is higher customer lifetime value and improved financial performance.
Since launching on the Shopify platform in late 2020, ReturnGO has experienced tremendous growth and positive customer reception, with demonstrated value across the company's globally-distributed customer base.
Virtusize's technology can help to minimise apparel returns, by helping customers find the perfect size and fit. 
Virtusize helps online fashion shoppers find the right size and fit - every time. By integrating with the revolutionary sizing platform, retailers are able to remove the largest obstacle to shopping for clothes online, significantly increasing sales and reducing returns.
Here is what sets Virtusize apart:
Virtusize is the only global solution where shoppers can visually compare an item they want to buy with either an item they already own from their digital wardrobe or with their virtual body silhouette.
While other solutions provide generalised size recommendations based on the standardised size charts that brands already offer their shoppers, Virtusize uses item specific measurements to help shoppers find their perfect fit. 
By providing the most accurate size and fit guidance in the market, Virtusize has helped retail partners significantly increase their customer lifetime value while also reducing size-related returns.
Virtusize's rapidly growing portfolio of leading global and regional partners include Uniqlo, Ralph Lauren, Acne, Levi's, and more. Virtusize is based in Tokyo and has achieved a market leading position across Asia-based sizing solutions. They are currently targeting new markets and would love to speak with you about how they could help bolster your online fashion business.
When it comes to returns, there is still a huge amount of inefficiencies in the process, from how returns are collected through to how they're warehoused. A company on a mission to change that is ZigZag.
Founded: 2014
Location: London, UK
Total funding: $20.1m
Co-founder: Al Gerrie, Laurence Guy
Website: www.zigzag.global
Contact: al@zigzag.global  
ZigZag Global is a software solution to help ecommerce retailers manage returns domestically and globally.
The ZigZag platform connects major retailers to a global network of over 220 warehouses to over 200+ carrier services in over 130 countries. ZigZag's clients include boohoo group, Selfridges, Arcadia group (Topshop etc), Superdry, DHL, GAP, The Hut and many more. 
ZigZag delivers best in class technology and service to transform the returns experience globally. ZigZag's mission is to reduce the cost, waste and friction associated with returns, boost customer loyalty and make retailers more profitable and sustainable.
Apr 26, 2021