Food Waste
Researching the Benefits of Service Level /Availability Differentiation as a strategy.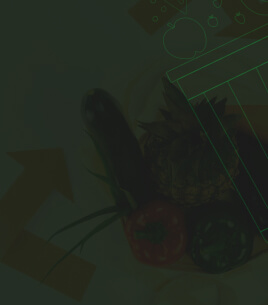 Food Waste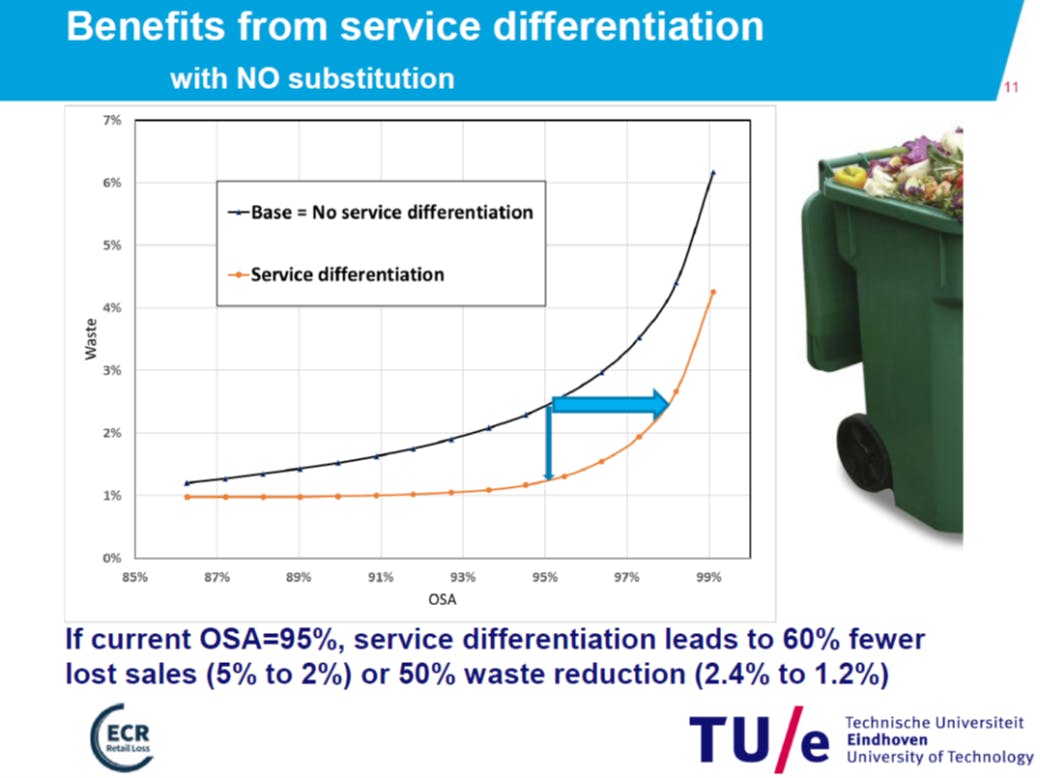 New Research Opportunity
Context
Our previous food waste research (click here) had highlighted the different interventions that could shift the efficient frontier (see image) to the right. For example, the research called out the opportunity to reduce the minimum case size shipped from the DC and the addition of one extra shelf life day to the products. Both gave impressive results, however both required a degree of collaboration with external parties, which inevitably made them harder to deliver.
Also highlighted in the ECR research, and perhaps easier for retailers to execute, as it requires less cooperation with others, was the concept of Service Level / Availability differentiation, where the targets for some items in the assortment, such as the slow sellers, were set to be lower than the others in assortment, such as the fast movers. In the initial modelling, the strategy was projected to deliver a 50% food waste reduction benefit.
ECR Retail Loss are considering commissioning new research with us to help the retailers in the group "model" and articulate the benefits of this strategy.
In advance, we conducted a quick benchmark study on the use of this food waste strategy amongst the members of the working group that includes Aholddelhaize, Tesco, Lidl, Walmart, Kroger, Carrefour, Woolworths and the food waste experts from sixty plus others grocery retailers from USA, Europe, South Africa and Australia
Summary of the mini benchmark study findings.
In total 15 retail-companies answered the questions in the survey. Most retailers (11 out of 15) were aware of service level differentiation as a strategy.
Seven out of these eleven retailers were already applying service differentiation. They apply it mostly for Fresh Produce and In store Bakery. Service differentiation is also applied for Protein/Meat/Fish/, Fruit, Dairy and Salads. Only a few retailers apply it for Ready Meals and Bought In Bakery.
When differentiating service levels, the minimum service level differs a lot by retailer; one retailer allows service levels below 50% another allows service level as low as 60% and one retailer only allows service levels above 90%. The maximum service level they allow is typically 99.5% or even higher if risk of waste is low and the shelf is sufficiently large. The % of customers grabbing the freshest item available on the shelf is estimated to be in the range of 20%-40% (2 respondents) or 40%-60% (2 respondents).
The reasons mentioned for not applying service differentiation were:
Our commercial department and/or the board of directors do not want to differentiate service and consider all products "equally important" (3 respondents)
Our central replenishment systems are not capable to differentiate service levels when making replenishment decisions (1 respondent)
Store employees are not capable of making replenishment decisions which take into account service differentiation and we do not have any evidence that it will deliver results (1 respondent)
Fresh & Ultra Fresh product groups are the most essential from customer perspective and must always be available ( 1 respondent)
To summarize:
Most retailers know that service differentiation is a potential strategy, but the perception whether or not it is beneficial to adopt this strategy varies among retailers. Roughly 65% of the retailers apply it and often apply it for multiple (ultra) fresh product categories. The main reason that other retailers are not applying it is the fact that they consider all products 'equally important'. As a result they accept that this strategy leads to more food waste for part of their assortment and/or lower product availability for customers for another part of the assortment, compared to competitors which apply service differentiation.
What next?
ECR's intention would be to commission research with us to "model" the impact of this strategy by using actual retailer data to help illustrate the potential size of prize for retailers in this strategy, and the characteristics of the category where it can have the greatest impact.
If you would like to be part of this research and / or want to be made aware of the detailed objectives, please email Colin Peacock (colin@ecrloss.com) for more details.
Apr 7, 2023